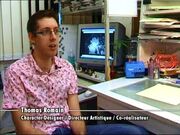 Thomas Romain
(ロマン・トマ Roman Toma) is a French animator who is responsible for creating Code: Lyoko alongside with Tania Palumbo. He is also responsible for designing and co-directing the Franco-Japanese animated series,
Oban Star-Racers
, which would be the start of his career in Japan.
Staff in:
Edit
Air Gear: Kuro no Hane to Nemuri no Mori -Break on the Sky- (OAV) : Art Setting, Prop Design
AKB0048 (TV) : Art design
Aquarion Evol (TV) : Conceptual Design
Aria - The Natural (TV) : Design (7 episodes), Guest Character Design Assistance (6 episodes)
Aria the OVA ~Arietta~ : Layout Animation Director
Basquash! (TV) : Original creator, Art Director, Key Animation (eps 1-2), Mechanical Conceptual Design
Bodacious Space Pirates (TV) : Art design
Chō Soku Henkei Gyrozetter (TV) : Mechanical design
Croisée in a Foreign Labyrinth - The Animation (TV) : Art Setting
Engage Planet Kiss Dum (TV) : Art design
Muv-Luv Alternative: Total Eclipse (TV) : Key Animation (OP; ep 3)
Ryoko's Case File (TV) : Translation Collaboration
Senki Zesshō Symphogear (TV) : Art Director, Future Visuals
Community content is available under
CC-BY-SA
unless otherwise noted.