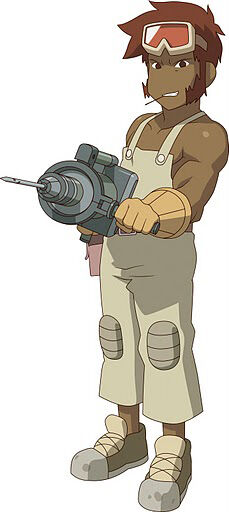 Stan (スタン Sutan) is one of the two mechanics of the Earth Team. He is the mechanic specialist while Koji is the IT specialist. Before Don Wei poached them, the two partners used to work together in Miguel's workshop, the creator of the Whizzing Arrow.
The polar opposite of his fellow mechanic Koji, Stan is very direct and combative, and doesn't hesitate to speak his mind, especially when the safety of a teammate is at stake. Stan feels that Don Wei is putting too much pressure on Molly to win on Ōban, and that Don is too prideful and concerned with his own feelings to consider the feelings of the rest of the team. This is seen the most when the team reaches Ōban, as they are usually the spectators of the drama the team faces and are seen having brief conversations about Don Wei's behavior. A recurring theme is Stan telling Koji that Don Wei is heartless and a robot - an idea Koji usually rejects. After returning to Earth, he goes back to work for Miguel.
Stan is named after Stanislas Brunet, the head mecha and background designer of the series.
Community content is available under
CC-BY-SA
unless otherwise noted.